Facilities
Cranbrook Educational Campus is housed within a purpose-built modern building with very attractive school grounds and sports areas. The school has excellent facilities available for all curriculum areas to help ensure that all of our students enjoy their learning and they are successful academically. Our internal and external areas are also available during our break and lunchtimes.
Our external sports areas include an all-weather pitch, athletics field, tennis courts and also a rugby pitch.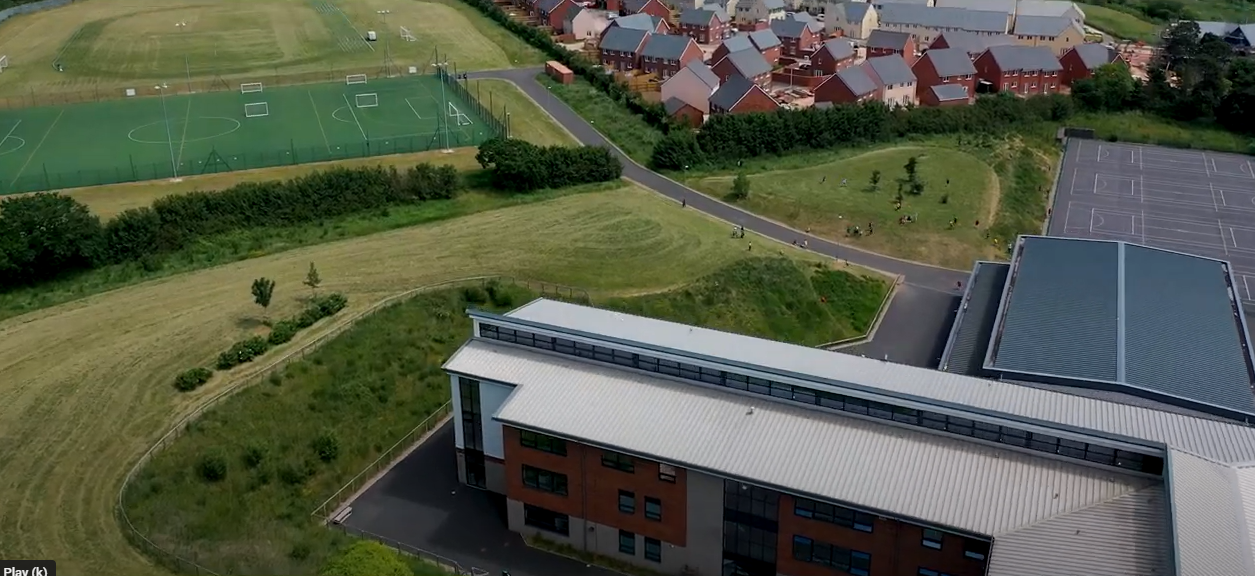 This is in addition to our sports hall and dedicated dance studio. Our creative and performing arts facilities include drama rehearsal areas and teaching rooms. This is in addition to dedicated music teaching and practice rooms and art classrooms and workshops. Our art students are also able to enjoy using a dedicated room IT suite to create their digital art portfolios.
We have a welcoming and inspiring library located in the centre of our building that is available to all student and staff providing resources for both academic study and to help our students with reading for pleasure.
If you are interested in using the Education Campus outside of school hours during the week or over a weekend, please see our Community Letting page for more information.
3G Pitch
Size of Facility: FA U16s football pitch
Sports/Activities used for: Junior football training (No FA League Games), senior football training and Rugby non-contact training.
Equipment available: 2x Full size football goals and 4x 7 a side football goals are available. No rugby posts are available and contact games are limited.
Floodlight: These are available from September – April.
Footwear: Clean, moulded rubber or metal studs are required. Strictly no bladed boots or astro turfs are to be worn.
Sports Hall
Size of the Facility:
Sports/Activities used for: Basketball (one large court or three small courts), Netball (1 court), trampolining, five a side football, Birthday Parties, Korfball, Futsal and bespoke indoor sports/activities.
Equipment available: Indoor netball posts, indoor football goals, badminton posts (No nets supplied), basketball hoops and trampoline hoist.
Food: No food is to be consumed within the Sports Hall but an alternative area can be provided for Parties/team events.
Footwear: Indoor/non marking footwear must be warn at all times.
Changing Room are available to use but must requested on initial booking as availability is limited.
Main Hall/Dance Studio
Size of Facility: Main Hall – 202m2 Dance Studio 90m2
Sports/Activities used for: Dance (mirrors and ballets bars included), fitness classes, martial arts, meetings, community events and bespoke events.
IT Equipment: Projector and screen included. Tables and chairs available upon specific request only.
Footwear: Indoor footwear/barefoot at all times. No storage available
Additional Info: Located on the ground floor. Can be partitioned by a curtain only. 100+ chairs can be setup in this space upon request.
Tennis/Netball Courts
Size of Facility: 4x Netball courts and 4 x Tennis courts (Tennis only available Mid - April - September)
Sports/Activities used for: Netball, Tennis and Exercise classes.
Additional info: This area has no floodlights.
Footwear: Clean outdoor footwear.
Primary Studio
Size of Facility:
Sports/Activities used for: Martial arts, exercise classes, junior sports clubs, gymnastics.
Footwear: Indoor/non marking footwear must be warn at all times.
Additional Info: Located on the 1st floor of the building, lift access available
Classrooms and Secondary Library
Size of Facility: Variety of sizes - Please contact [email protected] for specific requirements.
Sports/Activities used for: Community Meetings, AGM's or Small activity sessions.
White board/projector screen available for own laptop to be connected to. We have Guest WIFI which can be used on site.
Extra Information
Use of a kitchen/food tech room is available upon request for refreshment making only. Crockery, cutlery or mugs are not available to borrow or hire.
Changing Rooms – We have 4 changing rooms available for hire for fixtures, these are not opened unless requested on weekday evenings and are bookable for weekend fixtures in the Sports Hall, 3G or Netball Courts.
Guest WIFI Available throughout the Campus.